Skip to main content
UTEP Faculty, Staff, and Retirees** are invited to bring their families and attend this family-friendly University picnic. Games, food and fireworks are...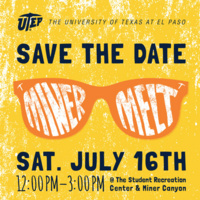 WHAT is MINER MELT? You've accepted your offer of admissions and you have been PICK'D to attend a special UTEP Event! This summer event is exclusive only...